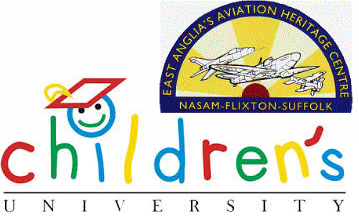 Children's University Accreditation …………….
The museum has just become accredited by the Children's University of Norfolk as a provider of educational experiences. We have two programmes that have been accredited, the Junior Engineering Day and the Scout Air Activities days.
Junior Engineering Day
The first of our Junior Engineering Days will be held on Tuesday 24th October, during the schools half term, and will allow youngsters to try their hand at Metalwork, Woodwork, Electrical Engineering or Pilot Skills in morning and afternoon sessions. Youngsters can book into a morning and/or afternoon session, so could try two of the skills.
Scout Air Activities Day

During our popular Scout Aviation Skills; Beavers, Cubs, Scouts and Explorers can do part or all of the Aviation Skills badges (all of Stages 1 & 2, some of Stages 3 – 6), These days are run twice a year at the moment, and the next are on Saturday 30th September (fully booked) and on Saturday 28th April 2018 (spaces available).
Author :
: Steve Bell
---