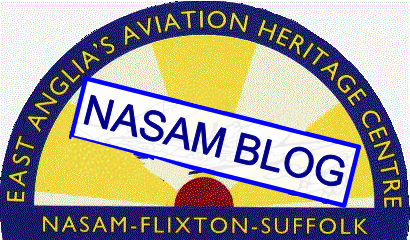 Some Statistics on the NASAM blog ……
As we have now moved into the quiet period when the museum is closed for the winter break, I thought I would publish some stats in a short article on how the Norfolk and Suffolk Aviation Museum blog has been progressing.
Back in June (2017), I was asked to develop a museum blog and after a review of potential hosting sites and blog software, the first live blog was posted on the 5th July and was a report on the 446 Memorial repairs.
Since that time a number of people have made contributions to the blog, and we have published from a number of areas of the museum with; snippets from the VP, notes from the Chairman, visits, education days, special events, renovations, department updates, nature at NASAM and toy planes, to mention a few.
With the blog postings automatically going through onto our Facebook pages and also onto the Twitter feed, we have reached a wide variety of people and an audience around the world.
Some of the incidental stats up to the end of the year 2017, are as follows:
We published 80 blogs and pages during the period.
The blog site has had 3842 blog/pages viewed from 1370 visits by individuals.

Visits, this is not unique visitors, as some people will make numerous visits, this is just a visitor count.
What it does show is that on average, each person reads 2.8 pages.

On average 21 pages have been read each day.
Having posted each of the blogs automatically onto the two main social media sites (Facebook and Twitter), Facebook is by far the most popular of our social media sites and the largest source of links back to the blog.

The Stats from the Facebook site tell us that on average we reach just under 1000 people each week on Facebook with the abbreviated blog postings.
We have 1538 followers on Facebook and 31 on Twitter feed (which is relatively new to the Museum).

We had 252 hits coming directly from the Aviation Museum Main Web Site.
Having published the Aviva Community Fund appeal for the Adair Boardwalk Repairs, 47 people went directly to the Aviva website (hopefully to vote).
The most read page, apart from the home page, is "Rotting Logs" which has been read 80 times.
Most popular day to visit the blog site each week is a Wednesday.
Most popular time to visit the blog site each day is 1900 hrs (UK time).
The best daily hit rate was on 16th September 2017.

This was the day we published The Historic Weapon Display Group Event.
Historic Weapons Group Posting

The number of authors who have made contributions is 19.
The number of people registered to be notified by email about postings is currently 20. and,
We were visited from 40 countries (see the map below).
If you would like to include an article in the blog about the Museum or any of its Aircraft or Artefacts, please use the form below to contact me:
Author:: bloginfo

---