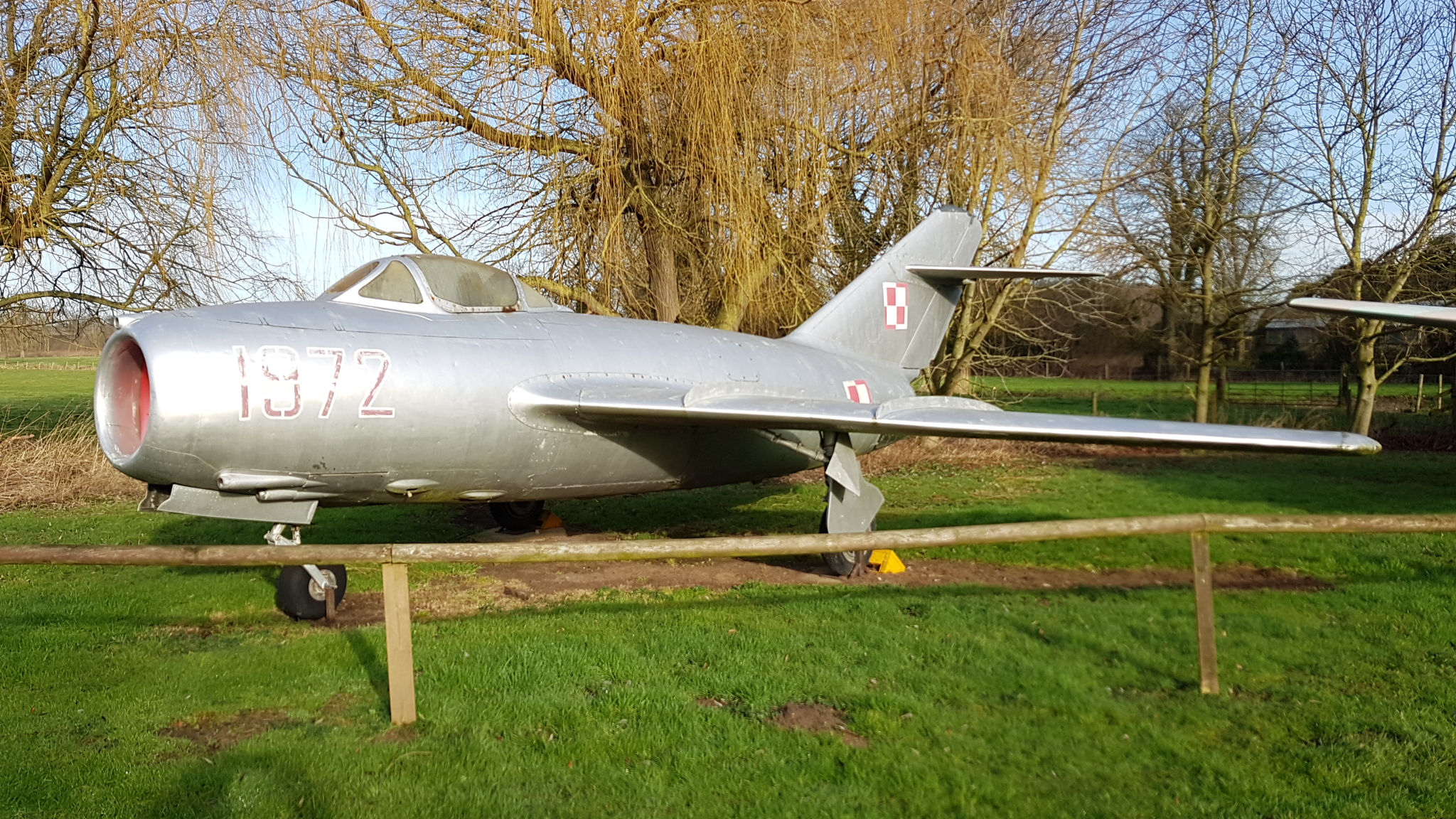 MIG-15 Updates ……..
Our Mig-15 is lacking most of the interior equipment so we are pleased to have acquired by donation a complete instrument panel and an original ASP-3N gun sight for the cockpit. Our aircraft is a Czech example and it is painted in dual Czech/Polish markings as a memorial to airmen from these countries who flew with the RAF in WWll.
Instrument panel and gun sight images
We gradually progress around all our aircraft with the intention of making them as complete as possible but have to rely upon missing items being donated in the main as funds are very limited when it comes to purchasing objects. The museum is therefore extremely grateful to all its donors for the steady flow of artefacts coming to us. These enhance our displays and ensure that visitors find something new to view at each visit.
Images of the MIG-15 at the Museum
Author:: Ian Hancock
---
Note re the panel from Steve Bell:
"The panel was built by an enthusiast who specialises in buying instruments and recreating panels for historic aircraft, then selling them. Also in his workshop when I went to collect it was a Lancaster panel that he was working on." "Also worthy of note is the altitude being measured in metres rather than the feet that just about everyone else apart from Russia uses."
---
Aircraft Notes::
MIKOYAN-GUREVICH MiG-15bis (S-103)
THE MiG-15 WAS THE STANDARD SOVIET AIR COMBAT FIGHTER OF THE EARLY 1950s AND WAS SUPPLIED IN LARGE NUMBERS TO WARSAW PACT NATIONS, AS WELL AS TO ALMOST EVERY SOVIET CLIENT STATE IN AFRICA AND ASIA. ITS KLIMOV RD-45 ENGINE WAS A DERIVATIVE OF THE BRITISH ROLLS-ROYCE NENE. THE TYPE FIRST APPEARED IN NOVEMBER 1950 DURING THE KOREAN WAR WHERE IT WAS OPPOSED BY THE U.S. F.86 SABRE. MiG-15 FIGHTERS WERE BUILT UNDER LICENCE IN CZECHOSLOVAKIA AS THE S-102. FROM 1953 – OTHER VARIANTS FOLLOWED. PRODUCTION IN POLAND COMMENCED THE NEXT YEAR WHERE IT WAS NAMED THE LIM-1. SOME 620 MiG-15bis VARIANTS WERE BUILT IN CZECHOSLOVAKIA AS THE S-103 (THE LIM-2 IN POLAND).
3794
THIS AIRCRAFT (623794 c/n 5630022) FIRST FLEW ON 13/9/1956 AND SERVED FROM 6/10/1956 UNTIL 1968 WITH 1.slp (No.1 FIGHTER AIR REGIMENT) – CZECH AIR FORCE NUMBER 3794. THE CZECH AIR FORCE WAS PLACED ON ALERT ON 25/10/1956 AT THE TIME OF THE HUNGARIAN UPRISING – WHEN THE HUNGARIAN PEOPLE REBELLED AGAINST THE COMMUNIST POWER IN THEIR COUNTRY. THE REVOLT WAS CRUSHED BY THE RED ARMY AND THE FIGHTER ALERT WAS CANCELLED ON 13/11/1956. IT IS BELIEVED THIS AIRCRAFT LATER BECAME A GATE GUARDIAN AT A CZECH AIR FORCE BASE.
IT ARRIVED AT IWM DUXFORD IN 9/1994 AND WAS STORED UNTIL MOVING TO FLIXTON IN 8/2007. IT IS PAINTED IN DUAL CZECH AND POLISH NATIONAL MARKINGS AS A TRIBUTE TO AIRCREW FROM THESE COUNTRIES WHO WERE KILLED IN ACTION WHILST SERVING WITH THE ROYAL AIR FORCE DURING WORLD WAR II. THE MUSEUM PURCHASED THE AIRCRAFT IN 2012.
TECHNICAL INFORMATION
CREW: 1
ARMAMENT: Included one 37mm and two 23mm cannons
MAXIMUM SPEED: 668 mph (1,100 km/h) at sea level.
SERVICE CEILING: 51,000ft (15,545m)
COMBAT RANGE: 560 miles (900km)
WING SPAN: 33ft 1ins (10m)
LENGTH: 36ft 3ins (11m)
EMPTY WEIGHT: 7,170lbs (3,724kg)
---